| What We Offer |
Talent Search Projects

Talent searches service for PE owned portfolio companies and corporate.
Position Types: C-level, Board, GM, VP and Director positions (Minimum $100K salary)
Expert Network

Extensive Network to Meet Your Needs: If your company is expanding or planning to expand in the future, we can connect you with the right industry experts who can provide you with due diligence consulting and growth strategies.
---
Our Process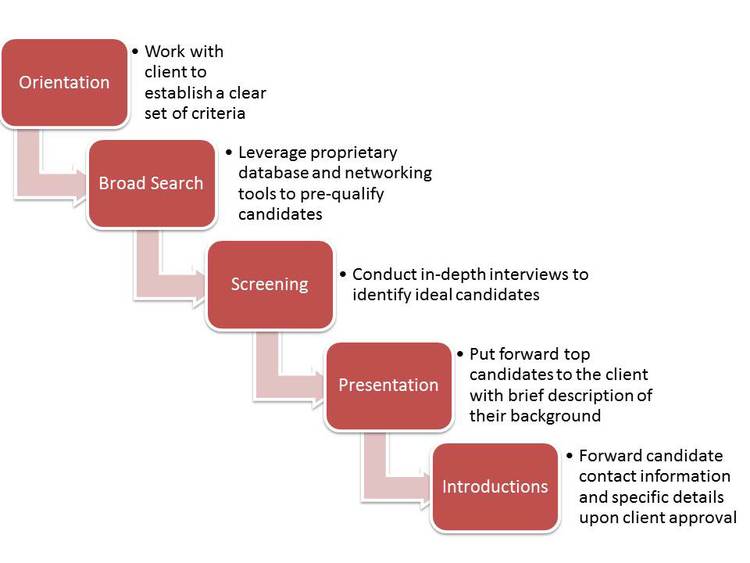 1. Orientation | We will work with the client to establish a clear set of criteria based on the project requirements. Criteria may include, but is not limited to:
Requirements:

Industry

P&L

Level of experience

Previous or highest title

Company Background
2. Broad Search |
Proprietary Database
Pre-Qualified Candidate Profiles
Quick Feedback
Deliverables
Search Report
List of Potential Candidates
Applies Search Criteria
3. Screening | Using the broad search report, we will conduct in-depth interview to identify the ideal candidates. Research activities include:
Thorough resume review
Background due diligence
Phone Interview
Referral due diligence
Schedule interviews
4. Presentation | We will present the top candidates to the client, briefly walking them through the candidate's resume, background, characteristics, success and overall impression. At that point, the client will select the candidates they with to pursue.
5. Introductions | Upon approval, we will deliver the resumes complete with contact information and specific background information on the candidate(s). We will then set up a phone meeting between the client and the candidate(s). If the client is not able to find a suitable candidate(s), search refinements will be done until all possible candidates have been exhausted.
---
Sample Talent Acquisition Closed Wins:
"Talent Acquisition is an integral part of developing a solid business foundation with executives and sourcing groundbreaking deals. — Gerald O'Dwyer